JUST IN! These VINTAGE movies are very different from today's porno flicks. They have a primitive and amateurish feel. All were shot in black and white. The people in them are real-- no silicone implants here! See sex of every type-- oral, anal, homosexual (male and female), transvestite (male and female), interracial and with multiple partners. Check out the period details: big old 1950s sedans, vintage clothing, lingerie, furniture and kitchen appliances. Men wear masks, ludicrous fake mustaches and noses, or "beatnik" berets and sunglasses. DVDs are packaged individually in protective boxes siimilar to the one shown below. Each DVD runs for approximately 60 minutes. Prices quoted are in US funds, shipping included (USPS Confirmed shipping in the US).
Your purchases here help keep this site a free viewing gallery. Thank you!
Please place orders through the mail. See bottom of page for details.
Please contact mark@rotenbergcollection.com to reserve mail order items.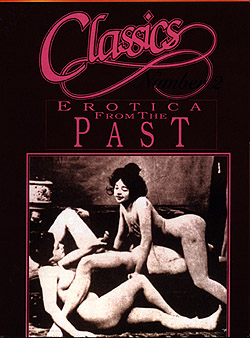 THREE DVDs are ON SALE for only $30.00 Including US Shipping.
SALE: 3 DVDs with US Shipping
NO INTERNATIONAL SHIPPING ON THIS ITEM
$30.00
SOLD OUT
---
Here's a sample of the types of films on these terrific DVDs.
There are usually 6 or 7 films on EACH fab disc. One might start off with "Free Ride" from about 1915 showing 2 gals and a guy with some booze in a Model T out for a good time in the country. Then we could jump to the 1940s for some great fucking, sucking and a hot 69. Or, off to the early 1960s where a GORGEOUS gal gives it to a well hung guy and they end up in a real lather. Then back to the 1940s with Susie The Model who has a magic touch (and mouth) with men's "tools". It's time for some more 1940s action where a horny gal gives great head; look out for the money shot! Then, off to the 1920s for some fine French fluff showing a saucy, masked threesome doing what comes naturally; the lesbo scene is super hot. Finally, we could end up in the 1940s where Mike and Ike really slip it to their two juicy girlfriends.
WHEW!
---
THESE VHS CASETTES WERE JUST DISCOVERED IN MY WAREHOUSE!
LIMITED SUPPLY - $20 INCLUDING US SHIPPING!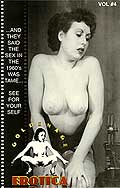 Volume 4 Only
WOW! 6 "smokers" from the 1960s! In the original rare picture box!
One hippie chick masturbates with a banana until her boyfriend comes to her rescue. A well-endowed, garter belt and stocking-clad beauty in a Mary Tyler Moore-style hair-do shakes her tits and humps the sofa. 4 other great films, too! Runs about 70 minutes.
Vintage Stag VHS, Volume 4
$20.00 Including US Shipping

---
Looking for DVDs of old GAY porno films? Click here.

For postal orders send check or money order to:
Mark Rotenberg, Vintica
PO Box 22
Riegelsville, PA 18077 USA
Please make all Checks/Money Orders payable to Vintica. Include your name, address including postal code, email address, shipping information, and items/quantities with your check or money order.